You can get the kids to eat a lot more vegetables with yogurt dips that are super savory, nutritious and don't take all that much time or money to make.
Once you open the yogurt to make your dip, it'll stay at good quality for up to seven days when kept in the fridge, so you'll get to make it once and enjoy it throughout the week.
Here are the top yogurt dips to make with Greek yogurt and food ingredients so good and so healthy.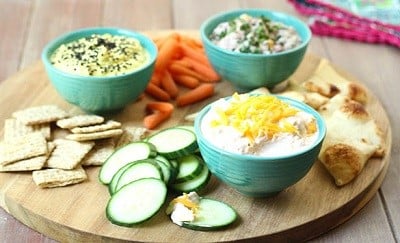 Greek Yogurt Ranch Dressing
Thick and rich, flavorful and creamy is what makes this ranch dressing a go-to every time you need something to spruce up your salads. It uses 2 cups of full fat Greek yogurt, 2 tsps white wine vinegar, 2 tsps dried parsley, 2 tsps salt, 1 tsp black pepper, 1 tsp dried dill, ½ tsp garlic powder, ½ onion powder and ¼ tsp dried thyme. Mix all the ingredients together and refrigerate for at least one hour before consuming.
Greek Yogurt French Onion Dip
This recipe calls for 1 cup Greek yogurt and you can substitute the full-fat version for nonfat if you'd like a skinnier option, 1 tbsp mayonnaise, 2 tbsp dried onion flakes, Worcestershire sauce or soy sauce, salt & black pepper.
In a small mixing bowl, whisk the yogurt with the mayonnaise, add the onion flakes, the sauce and the salt and pepper and refrigerate for at least 2 hours before serving chilled. You can make this dip for any occasion and it's just as good made a day or two in advance.
Greek Yogurt Avocado Ranch Dip
This dip is awesome served with red bell peppers, green veggies and small tomatoes or other crudités that you enjoy eating. It's made with mashed avocado, half a cup Greek yogurt, three tbsp nonfat milk, 2 tsp dried parsley, 1 ¼ tsp white vinegar, ¾ tsp onion powder, half a teaspoon kosher salt, ½ tsp dried dill, ¼ tsp garlic powder.
Process the ingredients in a food processor and serve immediately. Adjust the salt and garlic powder to taste if you prefer a more nuanced flavor. This dip is also great with whole-grain tortilla chips.
Simply Greek Yogurt Dip
This healthy snack can be consumed with veggies and pretzels and is the perfect thing to serve guests and family. The recipe includes 2 cups whole milk Greek yogurt, 1 large shallot – minced, 1 tsp garlic powder, 2 tsp dried dill, ½ tsp kosher salt and fresh ground black pepper.
Once you've minced the shallot, add the remaining ingredients and whisk together until combined. Keep refrigerated.
Dark Chocolate Greek Yogurt Dip
This dip is for fruit and other sweet things you enjoy eating, like marshmallows, digestive biscuits, pancakes as topping, donuts etc. It uses half a cup Greek yogurt, 2 tbsp cocoa powder, 3 tbsp brown sugar, half a teaspoon vanilla, half a teaspoon ground cinnamon, cayenne pepper (optional but if using, a tiny pinch).
Use a medium-size bowl to combine all ingredients and stir until the sugar is dissolved. Best served chilled.