You've probably noticed that honey can have different colors and can taste differently too. That's because honey is made in different places around the world using different methods.
As such, honey is as complex and distinct from one another as different types of chocolate or wine.
If you're a fan of honey, you can enjoy the experience of tasting a number of varieties at organized events throughout the country and working apiaries.
Where honey comes from in the US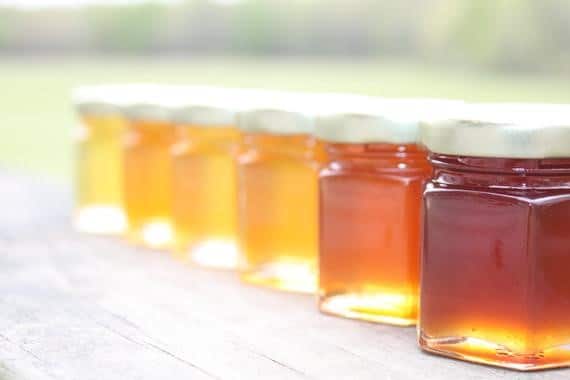 There are about seven apicultural regions in the United States, namely the Northeast, North-Central Region, Southeast, Plains Region, Mountain Region, Southwest, and the West each with several hundred thousand colonies in the region.
What usually influences the flavor of honey is the plant that went into it and where the honey is from, meaning if you tasted honey from each region and subsequently different colonies, it would each most likely have its own distinct flavor.
Another thing that produces differences in honey is the changing seasons that affect not only the taste but also the texture and the color, which is most noticeable.
Honey ranges in color from the lightest yellow to a deep orange and rusty brown. Spring honey, for example, would have a lighter texture and a more fragrant aroma whereas winter honey is usually thicker and darker. It's also relevant to note that weather conditions can impact a honey's flavor, not to mention production.
Honey is very much distinguished by the same common flavors as wine and chocolate. These flavors are floral, fruity, warm, fresh, veggie, animal, woody, chemical, and funk although not that many honeys are that complex.
The plants that honey comes from in the US  
In the Northeast:
alfalfa; white clover; basswood; birdsfoot trefoil; berries; wild flowers; black locust.
In the North-Central region:
alfalfa; soybeans; sweetclovers; true clovers; raspberry; basswood; black locust.
In the Southeast:
sourwood; clovers; tulip-poplar; fruits & vegetables; melons; citrus.
In the Plains Region:
sweetclover; alfalfa; cucumbers.
In the Mountain Region:
In the Southwest:
alfalfa; cotton; citrus; tamarix; safflower; wild buckwheat; desert shrubs.
In the West:
clover; lima beans; cucurbits; citrus; star thistle; sage.
The more abundant the flora, the merrier the varieties and honey and in many cases, the many flowers produce a mixture of honey that can be more expensive and is usually sold to the locals. It hardly ever makes it to stores.
Honey festivals organized around the country usually provide an array of types of honey, including from regions outside the hosting region and are the best place to for tasting events.